For the upcoming edition we would like to invite companies based in South Tyrol to participate.
If you are looking for a business model, product and/or service innovation, this initiative is for you. 
Three innovation challenges will be selected. If your company participates, several teams will put their creativity and energy into finding solutions to your problem.
By participating, you agree that we can use our communication channels to report on the Students Sprint and the challenges.
This edition of the Students Sprint is co-funded by the ESF – European Social Fund. Participation is free of charge for both companies and students. 
THE COMPANY WILL BENEFIT FROM:
young talents working in a customer-centric innovation process. 

interdisciplinary teams (and new contacts and networks). 

co-creation with several teams of 3-5 students each. 

learning how to work with new tools and methods. 

increasing visibility as an innovative company that thrives on young talent.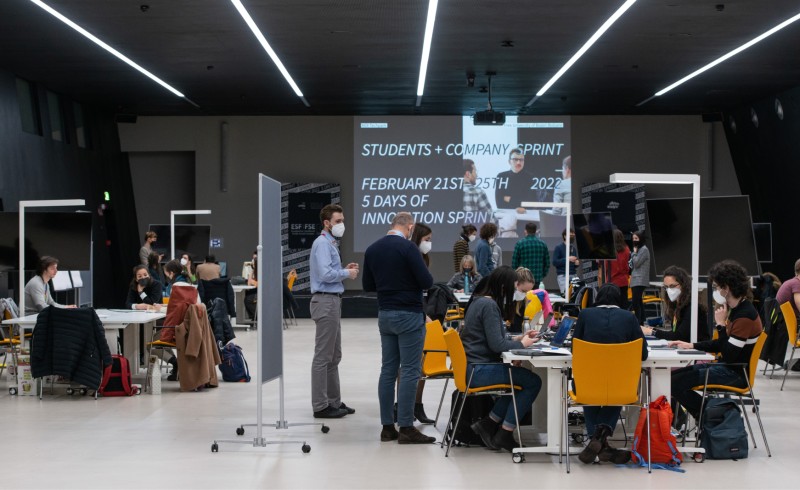 CRITERIA:
The challenge is suitable for the Students Sprint if 
an interdisciplinary team is needed to face it (students will be selected with the respective challenge-fit). 

it calls for a creative solution. 
it can be tackled by a team of students. 
SELECTION COMMITTEE:
Two Innovation Management experts from NOI plus one expert from unibz will evaluate all applications and select the three most promising challenges for the 2024 sprint. 
APPLICATION: 
Fill in the application form if you already have an idea of what the challenge should be about. Do not hesitate to contact us, our team is ready to help you assess your needs and design the challenge. 
Tel. 0471 060712 or sprint@noi.bz.it
Applications are open until 26/10/2023. Registration and participation are free of charge. 
YOUR COMMITMENT:
If your challenge is selected, what you need to do is:
present your challenge to the teams in person on 26 February 2024 at your company premises. 
be available (remotely) to answer any questions that team members may have during the five-day sprint. 

attend the final day event at NOI on 1 March 2024.